About KS Certification System
It is a courts temporary certification to prove that the factory can constantly product the product or the service according to (KS) based onKorea Industrial Standardization Act KS purpose of KS certification



· By the introduction it makes product's quality improvement, efficiency improvement
· Production of industrial products and dissemination they protects the consumer
· Encourage the dissemination of national standards




KS Certification targets (1,243type) Now July.1.2013
| | | | | | |
| --- | --- | --- | --- | --- | --- |
| A-original(3type) | B-Machine(235type) | C-Electric electronic (224species) | D-Metal(156species) | E-mineral products (6species) | F-Constructions (127species) |
| G-daily necessities(48species) | H-Foods(88type) | J-Living things(1species) | K-textile industry (28species) | L-ceramic industry(62species) | M-Chemicals(174species) |
| P-medical treatment (16species) | R-transporting machine (42species) | S-Services(5species) | T-distribution industry (22species) | W-Aerospace(1species) | X-information(5species) |

Type of KS mark
Category
Product (industrial)
Service
Food
Mark
Sort
general industrial product
S Service sector
H Food sector
Certification center
Korea Standards Association (KSA)
Korea Food Research Institute (kfri)
Related Site

KS certificating step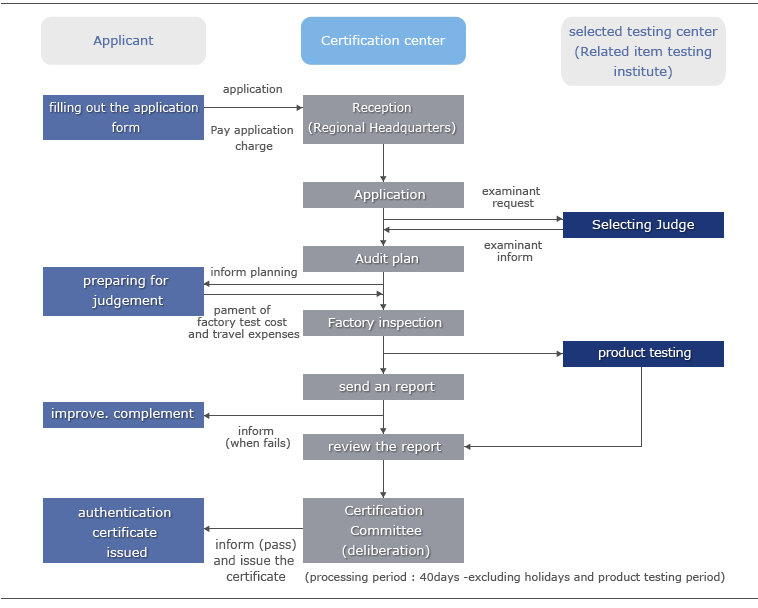 1. Request to examining authority to select auditors for specific items.
2. One. certification center one specified examining authority makes one screening team and inform the screening plan.
3. Deposit the factory screening expenses and travel expenses to certification center and designated examining authority. (one day before the day)
4. Pay the product testing commission fee to the designated examining authority.
5. When plants and products pass the certification, audit committee assumed (held every other week)
cf) If the factory inspection service sector, workplace audits. For products sector, service audits.

KS Factory testing field
Assessment areas (Main Category)
Industrial products+ Processing technology
Foods
Division
# of details
points
# of details
points
1. General standardization
14
26
34
6
23
2. Distribution Management
-
-
-
5
15
3. Materials Management
3
8
10
2
10
4. Process Management
3
7
17
3
13
5. Product quality control
4
11
25
3
14
6. Manufacturing Facilities Management
3
8
8
3
13
7. Test equipment management
3
6
6
3
12
sum
30
52
100
25
100
Pass/Fail
Over 80% of points/ pass.

QC Manager
1. Qualification for QC Manager
One who has South Korea's industrial managing certification or one who passed the certification test after attending QC Manager education held in Korea Standards Association training program (100hours).
* Focus for the oversea factory : QC manager's education is only held in Korea, in Korean. So one must speak Korean.

2. QC Manager's career.
1) Planning and promotion for in-house standardization and quality control
2) General management with established in-house standards, amendment, revocation and management.
3) Quality level evaluation for mining certified product
4) Guidance and supervision for conducting internal standardization and quality control
5) Guidance and advice for the problems shown in the process how to deal it and solve it.
6) Education and training about the education (quality control standardization) for the members of the organization
7) Guidance and advice on procurement
8) Managing the non- conformities (reject or not)
9) Governing their quality inspection tasks
* Focus for the Overseas plants : They should be the medium of communication for after wards management and research on the actual condition so someone who speaks Korean for the Korean certification center and Japanese For the Japanese certification center is preferred.


KS Certification posterior judgement
1. Screening preiod
- years after the first certification date. (Every 2 years for the service field)
- The products which needs certification for every 1year: Products which needs certification every one year according to Agency for Technology and Standards

2. Factory inspection item : Proceeds in the same manner as the initial certification audit.
3. Factory inspection results determined
- Over 80 points : Pass
- Over 60 points - Less then 80points : Corrective Action
- Over 40 points - Less then 60points : Stop displaying 1month
- Less then 40 points : Stop displaying 3month


KS certificate achieving benefits
- KS preferential purchasing system for the certificated products : According to the Industrial Standardization Act, to help consumers to buy reasonable goods, State agencies, local governments, Public agencies and public bodies enforced to buy KS products first.


Preparing for the consulting
- KS Standard No. : First, determine the number of the specifications you want to get certificated.
- For factory : For certification you need, the location of the factory, Number of workers (when oversea plants, whether you have Korean speaker)

Local consultant
Korea : Jung Yong Kim (+82-10-3767-8286)
China : Chun Sup Song (+86-1386-9053-343)
Japan : Nam Jong Song (+82-10-6568-3892)
Vietnam : Le Tuan Minh (+84-12-9383-8877)
E-mail consulting : mricorea@hanmail.net